Mayflower medical
Phone:02381 290 090 |
Helping You Deliver The Highest Standards of Pressure Care ™
Infection Control For Mattress Covers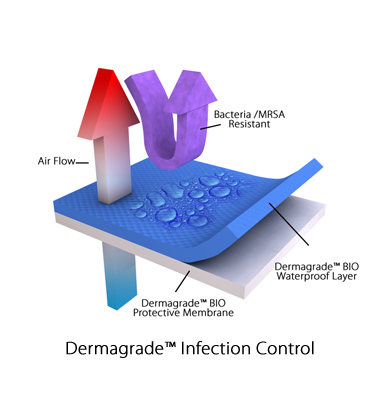 Mattress covers can be damaged at any time which can allow body or other fluids to contaminate the inner mattress core. This can result in the potential source of contamination. The MHRA released a safety poster to help raise awareness of damaged mattress covers and associated interior mattress contamination.
–          Inspect the exterior surface of each mattress
–          Remove the cover and inspect its surface and the mattress
core for staining and contamination
–          Safely dispose of any covers showing signs of damage or
staining
–          Arrange for contaminated mattress cores to be cleaned and
decontaminated in accordance with the manufacturer's
instructions or safely disposed of.
–          Ensure that a frequent inspection regime is established for all
mattresses.
Improved Safety & Infection Control
For superior levels of infection control and anti bacterial protection all Therawave ™ pressure mattresses are equipped with Dermagrade ™ BIO clinical mattress covers as standard. The latest development in medical fabric technology, Dermagrade ™ covers enable easier cleaning and optimum hygiene while meeting the toughest safety standards.
–          Anti Bacterial/ Anti Viral / Anti Allergenic properties – with clinically proven resistance to MRSA
–          RF High Frequency welded seams  – preventing fluid ingress and core contamination for superior
protection
–          Can be washed and dried at 95°C, vapour sterilisable for effective decontamination
–          Patented quick release cover system for faster and easier cover removal and cleaning
–          Biocompatible – Clinically tested against skin sensitivity
–           Fire retardant to BS7175 crib test 5 UK standards
–          VDV chamber suitable
–          Dry cleanable