Mayflower medical
Phone:02381 290 090
Helping You Deliver The Highest Standards of Pressure Care ™
Theracomfort™ Cushion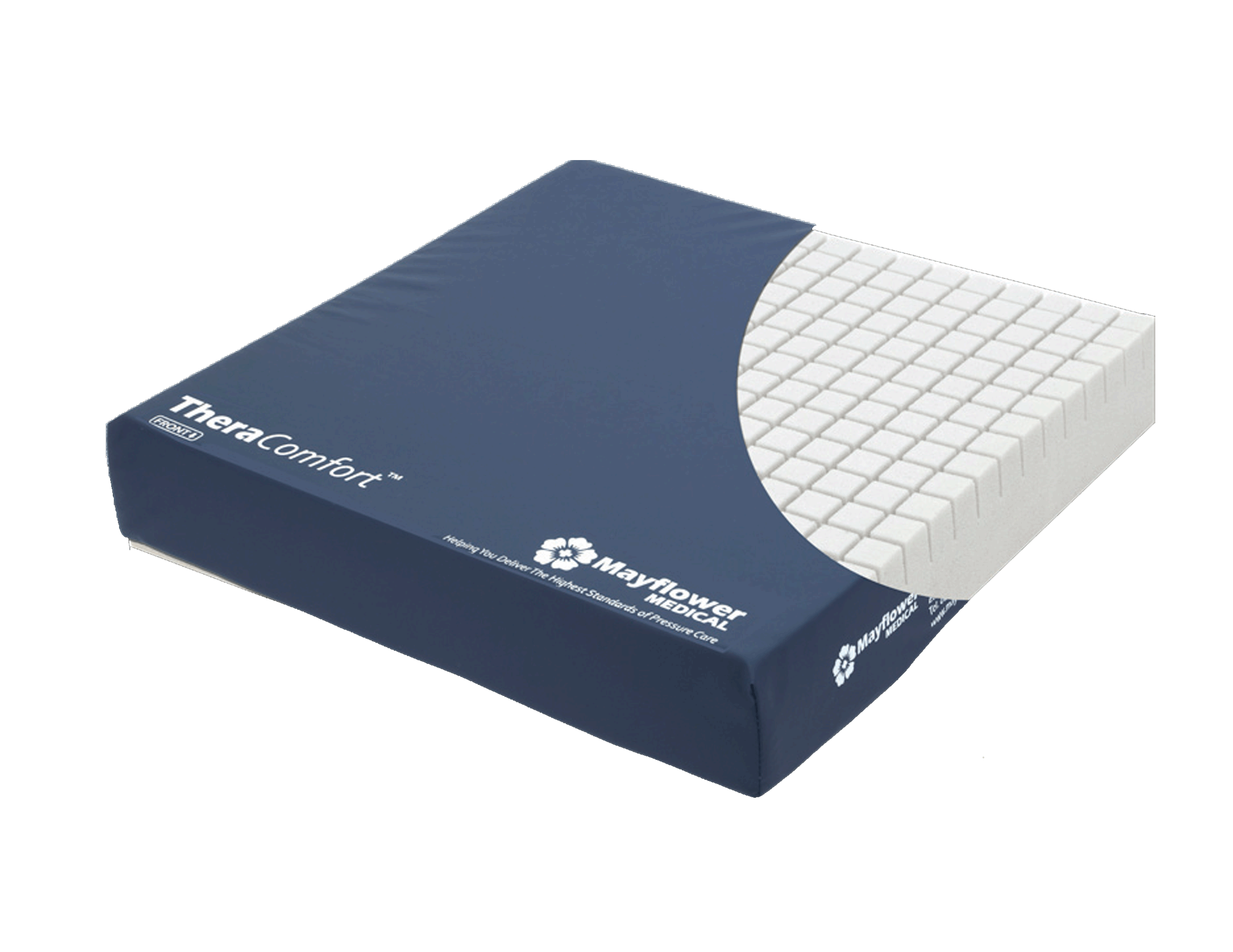 The TheraComfort cushion has amodular top surface which allowspressure to be dispersed from aroundthe ischials.
Cross cut channels prevent moisture build up and aid ventilation.
The Theracomfort cushion is a comfort cushion made from CMHR foam
The PU coated fabric is 2 way stretch material and vapour permeable to enhance pressure care
Fully removable zipped cover for easy cleaning.
Theracomfort cushion conforms to Fire retardancy BS6807:1996 medium hazard
Pressure Care - Quick Facts
 *Comfort
 17 st /108Kg
 100% Waterproof PU
 43 cm x 43 cm x 8cm
 Comfort Cushion
 THCUSH
The TheraComfort cushion has a modular top surface which allows pressure to be dispersed from around the ischials.
Cross cut channels prevent moisture build up and aid ventilation.
The Theracomfort cushion is a comfort cushion made from CMHR foam
The PU coated fabric is 2 way stretch material and vapour permeable to enhance pressure care
Fully removable zipped cover for easy cleaning.
Theracomfort cushion conforms to Fire retardancy BS6807:1996 medium hazard
Theracomfort cushion conforms to Fire retardancy BS6807:1996 medium hazard
Fully removable cover
43cm x 43cm x 8cm
For use as a comfort device
For use in wheelchairs or Day chairs
"We have purchased 3 Therawave systems from Mayflower and found them to be an excellent product from an excellent company. My unit has 28 highly dependent nursing and palliative care residents who need a high level of pressure relief. The mattresses themselves are high quality. The pumps are easy to use and quiet and the covers are high quality and comfortable. One resident was admitted with 4 pressure ulcers and now 3 have healed and the 4th is healing well. I highly recommend Mayflower as a company and their pressure releiving products."
Andrea Madden - Care Manager Christopher Grange Nursing Home
The Theracomfort cushion has a modular top surface which increases comfort and also improves air flow and helps to remove unwanted humidity under vulnerable pressure points. The cushion has a zipped removable PU 2 way stretch cover and is 100% waterproof. The cushion is suitable for use in ward chairs, wheel chairs and day chairs. Theracomfort cushions conforms to Fire retardancy BS6807:1996 medium hazard