Mayflower medical
Phone:02381 290 090
Helping You Deliver The Highest Standards of Pressure Care ™
Theracomfort™ Mattress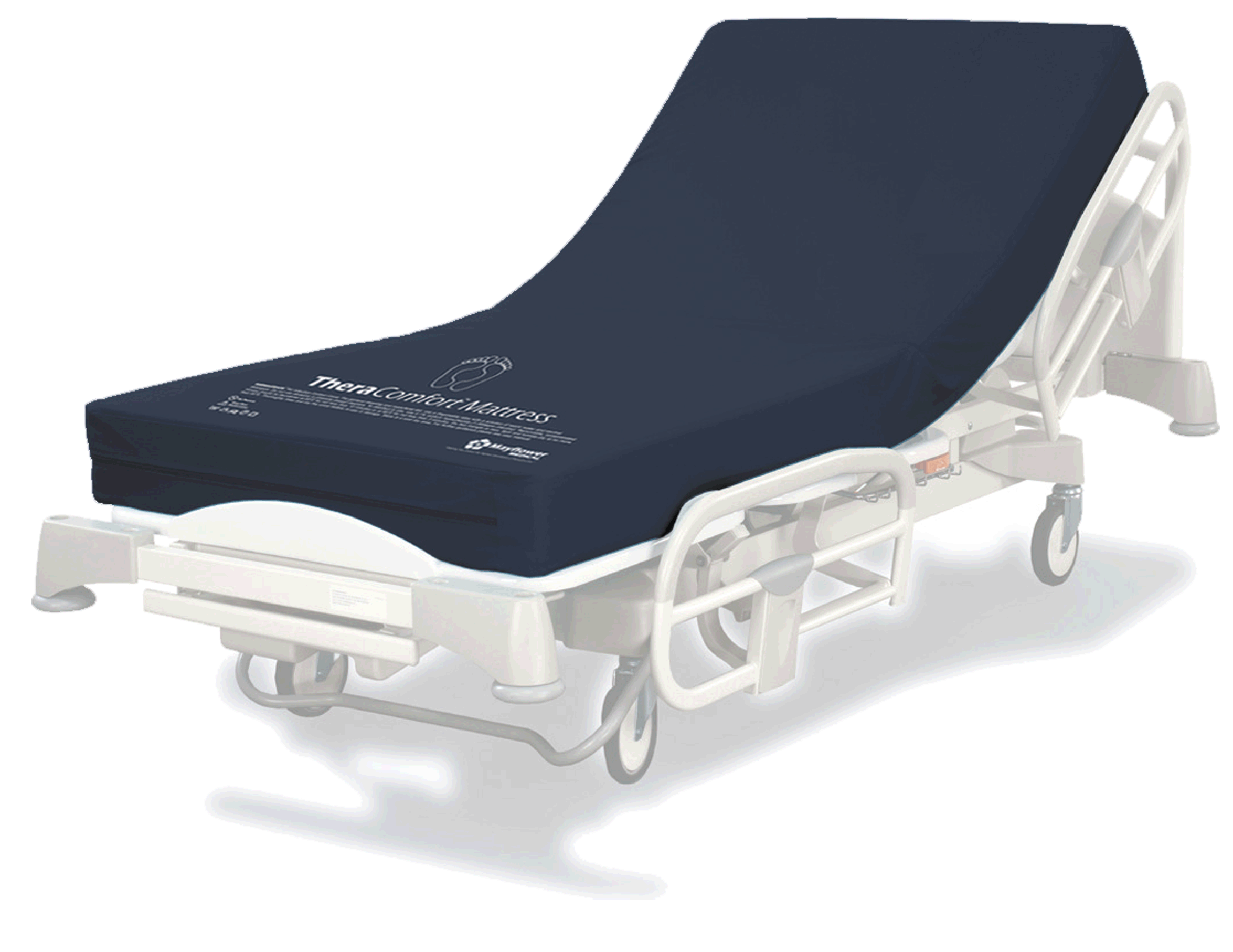 The Theracomfort™ is a cost effective pressure reducing mattress. Constructed from high resilient foam
The Theracomfort™ has been designed to provide high levels of patient comfort, and infection control. The Theracomfort™ is supplied with a waterproof, multi stretch PU, vapour permeable cover.
Pressure Care - Quick Facts
 *Comfort
 4 Way Turning Protocol
 29 st /185Kg
Waterproof PU Cover
 193cm x 91cm x 15cm
 Nursing Home Mattress
 THCOM
The Theracomfort™ mattress.
Constructed from durable high resilient foam.
The PU coated fabric is 2 way stretch 100% waterproof and vapour permeable to enhance pressure care.
PU Cover is fully removable 3 sided zip for easy cleaning and inspection.
Theracomfort™ mattress has a 4 way turning protocol to ensure continued comfort nd product longevity.
Maximum patient weight limit 29st /185Kg.
Theracomfort™ Mattress is Suitable for profiling bed frames.
Mattress Weight 10Kg.
Safe working load 29st /185Kg
Mattress Dimensions 1930mm x 910mm x 150 mm
For use as a comfort mattress
Mattress has a 4 way turning protocol
"Having just purchased our 2nd Therawave 8 mattress from you I wish to give you feedback on the superiority of this product and the success we have acheived using it. A patient we nurse had a severe Grade 4 ulcer on the sacral area, completely bed bound, quadraplegic, and for medical reasons unable to be nursed on his side. This sore with the use of dressings and your mattress healed completely within a few months, a great feat given the severity of the sore. Having two out of the three cells inflated at a time gives much better support and stability especially to some of the more sturdy residents. I would not hesitate in recommending this product and would purchase for the home in the future."
Sarah Collard - Director /RGN Mountbatton Nursing Home
Designed for comfort as an entry product the Theracomfort™ mattress is a comfort mattress which is suitable for profiling bed frames. The cover is made from a 100% waterproof fabric which is 2 way stretch vapor permeable and zipped on 3 sides. The mattress has a 4 way turning protocol which ensures the product longevity.
Fire retardancy: BS7177 2008 medium hazard Products comply with the Furniture & furnishings (Fire) (Safety) Regulations 1988