Mayflower medical
Phone: 02381 290 090
Helping You Deliver The Highest Standards of Pressure Care ™
Therawave™ Dynamic Air Cushion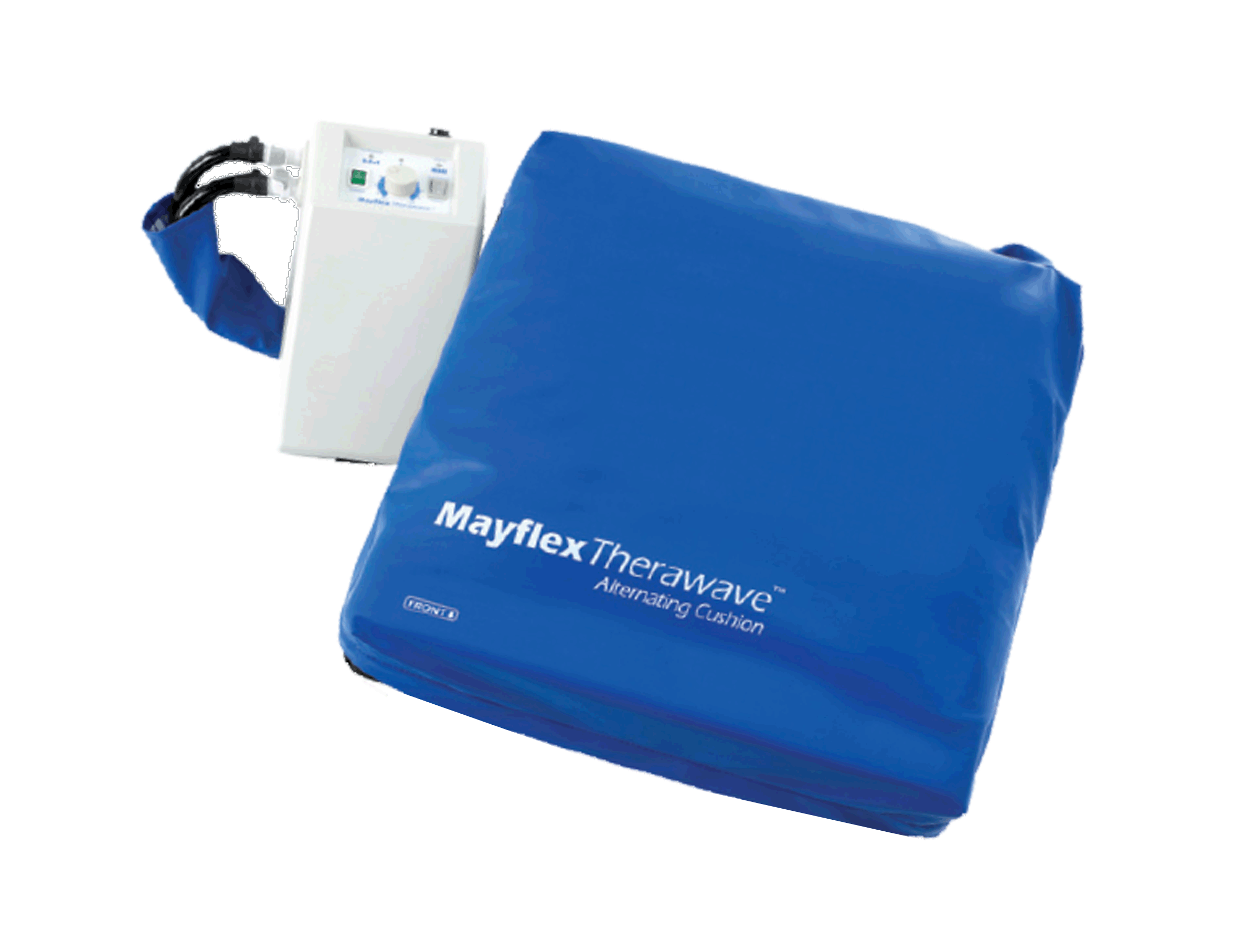 Pressure Care - Quick Facts
 *Very High risk
 17st /108Kg
 100% Waterproof
 43cm x 43 cm x 10 cm
 Dynamic cushion
 TWCUSH

The Therawave™ alternating air cushion provides dynamic therapy support surface for high risk residents.
The cushion provides optimum pressure care for sensitive residents sitting out of bed for long periods of time.
Provides a high Level of protection for patients up to 17 stones.
Air cells arranged on a foam base provide stability and extra pressure protection for the patient.
100%waterproof, anti bacterial PU cover reduces potential friction and shear and promotes good air circulation, reducing the possibility of skin maceration
Therawave™ – Alternating Air Cushion – High to Very Risk
Cushion Dimensions 43cm x 43cm x 10cm

Pump Dimensions 26cm x 13cm x 10cm
Cycle time 10 minute
Connection Type : CPC Connections
Mains Powered
Cover : Dermagrade PU Bio Cover
Weight 3.5Kg
Base material Heavy Duty non-slip
Indications
For treatment and the prevention of pressure ulcers Stage I to III*
Can be used in conjunction with the Therawave™ STD and Pro pump/mattress systems for a complete 24 Hour care solution
"Having just purchased our 2nd Therawave 8 mattress from you I wish to give you feedback on the superiority of this product and the success we have acheived using it. A patient we nurse had a severe Grade 4 ulcer on the sacral area, completely bed bound, quadraplegic, and for medical reasons unable to be nursed on his side. This sore with the use of dressings and your mattress healed completely within a few months, a great feat given the severity of the sore. Having two out of the three cells inflated at a time gives much better support and stability especially to some of the more sturdy residents. I would not hesitate in recommending this product and would purchase for the home in the future."
Sarah Collard - Director /RGN Mountbatton Nursing Home
The Mayflex Therawave™ alternating cushion offers a continuum of care for patients who are capable of sitting out of bed for long periods of time. The arrangement of air cells on a foam base ensures optimum therapy, stability and protection of vulnerable areas. The cushion cover has a 360 degree heavy duty zip plus a side skirt which increases protection against fluid ingress thus increasing infection control. The Therawave™ pump unit can be mounted on a chair back or beneath the chair or can be connected to the Therawave™ standard or Pro pump systems for 24 Hour pressure protection.