Mayflower medical
Phone:02381 290 090
Helping You Deliver The Highest Standards of Pressure Care ™
Theracomfort™ Visco Cushion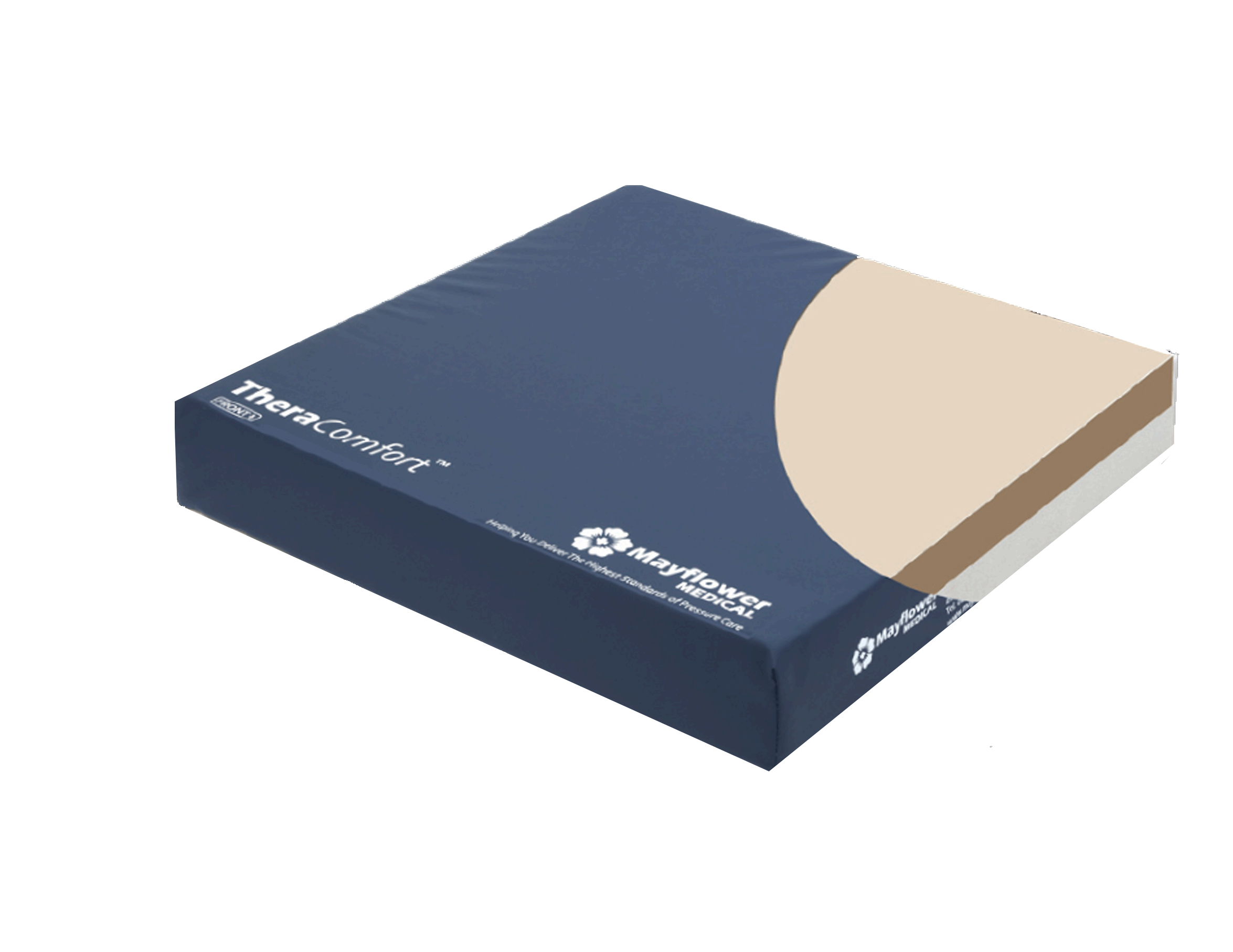 The TheraComfort™ VISCO pressure relieving cushion has atop surface layer of temperature sensitivememory foam.
This visco surface reacts by re-moulding uniformly to the patient's body contours dissipating pressure. Providing higher patient
comfort and support.
Pressure Care - Quick Facts
 *Medium to High Risk
 17 st /108Kg
 100% Waterproof PU
 43 cm x 43 cm x 8cm
 Medium Risk Cushion
 THCUSHV
The TheraComfort™ Visco cushion has a top surface layer of temperature sensitive memory foam which reacts and moulds uniformly to the patients contours.
A top surface of Visco elastic memory foam which is pressure and temperature sensitive.
The Theracomfort™ visco cushion is a mix of CMHR and visco elastic memory foam to provide support and pressure distribution.
The PU coated fabric is 2 way stretch material and vapour permeable to enhance pressure care
Fully removable zipped cover for easy cleaning.
Therawave™ cushion conforms to Fire retardancy BS6807:1996 medium hazard
Theracomfort™ Visco cushion conforms to Fire retardancy BS6807:1996 medium hazard
Adjusts and remoulds to body shape for optimum comfort and pressure relief
Fully removable cover
43cm x 43cm x 8cm
For use in medium to high risk* scenarios
For use in wheelchairs or Day chairs
"We have recently purchased some Mayflower mattresses to replace some of our existing older mattresses. The new mattresses have proven already to be far superior and great value for money. The quality of the product is excellent and they are very easy to use. Mayflower Medical has become an excellent resource for our nursing home. I would thoroughly recommend to other homes"
Darren Weeks, Registered Manager, Symphony House Nursing Home
The Theracomfort™ Visco <a href="http://mayflower-medical.co.uk/pressurecushions.html"><b>pressure relieving cushion</b></a> is a Medium to High Risk* wheelchair or day chair cushion. The combination of CMHR and memory foam allows the cushion to mould to the patients contours, ensuring very low interface pressures. The cushion is covered with a removable zipped PU 2 way stretch 100% waterproof cover. The PU 2 way stretch cover has been specially designed to work in combination with the memory foam which allows immersion and support of pressure areas which are at Risk of pressure ulcer damage.